Founder of SOCAH
Meet Dr. Hill
Dr. Hill is an Atlanta native, who is a nationally recognized expert in the diagnosis and treatment of medical hair loss disorders. Dr. Hill has extensive training and expertise in traditional dermatology and is very sensitive to those who wish to follow a more holistic path to healing.
Dr. Hill founded her practice Skin of Culture and Hair Center (SOCAH Center) on the principle that a healthy lifestyle can significantly improve the overall health of an individual's hair, skin, and nails.
Dr. Hill has created a comprehensive style of treatment that is personalized for each individual depending on his/her lifestyle decisions, culture, and comfort level towards medical or holistic treatments. Together, the patient and Dr. Hill will decide the best treatment regimen that adequately fits the individual's lifestyle.
SOCAH Center differs from traditional practice in that there are fewer patients so Dr. Hill can build a rapport with each patient and provide quality medical care.
Dr. Hill's Academics:
Graduated from Clark Atlanta University
Received her medical degree from the Boston University School of Medicine
Completed a clinical and epidemiology research fellowship at Emory University School of Medicine
Completed her pediatric internship at North Shore Long Island Jewish Hospital in New York
Served as Chief Resident during her dermatology training at the University of Texas at Houston-MD Anderson Cancer Center
Dr. Hill is certified by:
The American Board of Dermatology
The American Society for Dermatologic Surgery
The American Academy of Dermatology
The American Academy of Dermatology, Excellence in Dermatology™ Fellow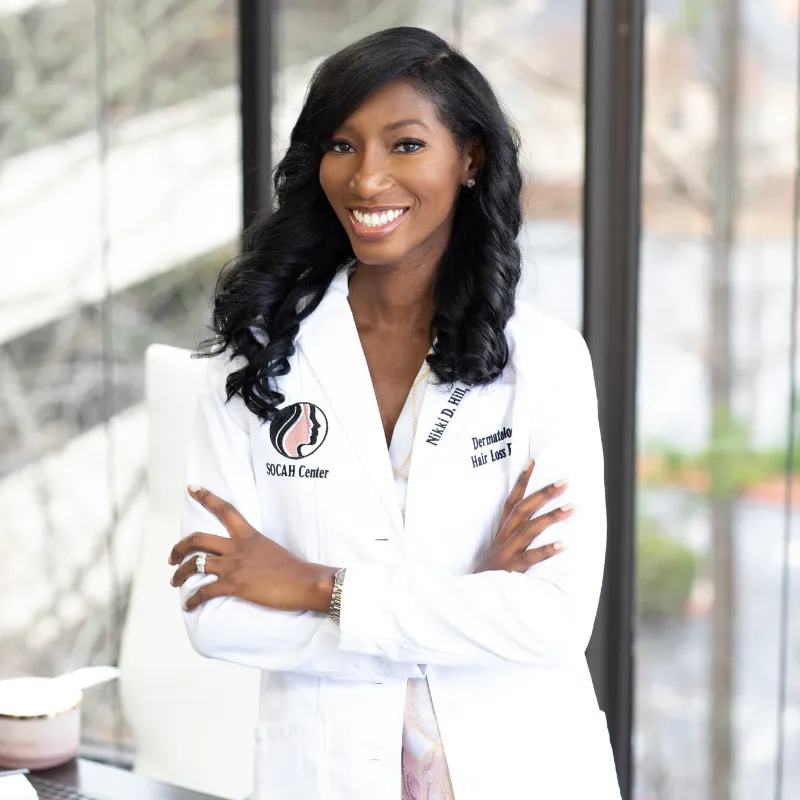 "Your hair and skin are the first things people see, and the last impression on their minds. They are a part of your personal brand and how you present yourself to the world. To lose your identity, due to hair loss or skin concerns involuntarily, is both disappointing and upsetting, and may impact your self-esteem," says Nikki Hill, MD, a Board Certified Dermatologist, Hair Restoration Surgeon, and Medical Hair Expert. With a warm personality and unique expertise in hair loss disorders and graceful skin maintenance, Dr. Hill's genuine concern for every one of her patients is more than evident.
*Dr. Hill offers virtual appointments to all current patients who have been previously evaluated by Dr. Hill.